Medical Card orthodontic coverage for Illinois kids can be confusing, get the facts here
Kids that are currently covered by the Medical Card in Illinois (also known as Public Aid, AllKids, KidCare or Medicaid) may be able to get orthodontic treatment with braces for little or no cost. Not everyone with Medical Card coverage will qualify for braces (orthodontic treatment), however, a detailed exam by an approved Illinois Medical Card Orthodontic (orthodontist or dentist) provider can assist you in determining eligibility. Each child must be pre-approved by the State of Illinois Medical Card administrators before orthodontic treatment with braces can be initiated. The following information provides a brief explanation of Medical Card orthodontic coverage in the state of Illinois.
What is the Illinois Medical Card?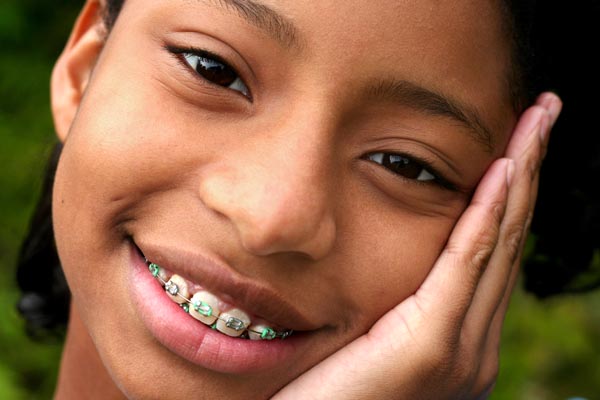 The Medical Card is a form of government assisted health care available to low-income families and children in Illinois. Currently there are two government funded Medical Card programs that offer general dental care and orthodontic treatment with braces in Illinois; All Kids and Family Care.
All Kids provides health care to children of low-income families, while Family Care provides coverage for parents of these children. Each of these programs provides specific dental care coverage and may assist in paying for orthodontic treatment, dental braces and orthodontist fees.
Approved Provider for Medical Card Orthodontic (braces) Treatment
Dr. Gustav Kozina and Den-Care Smile Center is an approved, licensed Illinois provider of General Dentistry, Oral Surgery and Orthodontic treatment with braces and accepts Public Aid, Medicaid, All Kids, Medical Card and Tarjeta Médica as well as most dental insurance plans.
The Illinois Department of Healthcare and Family Services (HFS), formerly known as the Illinois Department of Public Aid (also known as the Medical Card), administers the Illinois Medical Card dental program.
Do All Children Qualify for Braces on the Medical Card?
Not all kids covered under the Medical Card dental care program will qualify for orthodontic treatment with braces. Illinois Medical Card administrators must pre-approve all children before orthodontic treatment can begin and only children with severe needs will qualify for orthodontic treatment and braces. Orthodontists and dentists use special tests to determine the severity of a patient's need for orthodontic treatment with braces. If your child is currently covered by the Medical Card in Illinois, it would be in your best interest to have your child examined by an approved Illinois Medical Card orthodontic provider to see if they might be a candidate for covered orthodontic treatment.
Free Medical Card Orthodontic Evaluation
To determine if your child is eligible for orthodontic treatment, you must first schedule an appointment with an approved orthodontic provider for an orthodontic consultation. A top-rated Medical Card orthodontic provider in North Eastern Illinois that serves patients throughout metro Chicago, including Cook, Lake, McHenry, DuPage, Kane, Boone, Winnebago and Will counties is Den-Care Smile Center (847-DENTIST). They offer FREE Illinois Medical Card orthodontic (braces) consultations where they will examine your child and determine if they meet the criteria to have their orthodontic dental records submitted for pre-approval to the Illinois Medical Card office. If your child is deemed eligible, Den-Care Smile Center will submit the necessary documentation to Medical Card administrators on your behalf.
After a case is submitted for orthodontic treatment with braces it can take up to 4 weeks for the files to be reviewed and evaluated by a Medical Card administrator. Dr. Kozina or a staff member from Den-Care Smile Center will contact you when the approval for orthodontic treatment with braces from the state is received.
In the event your child does not qualify for orthodontic treatment with braces with the Medical Card, Dr. Kozina and the staff at Den-Care Smile Center will work with you to provide an affordable payment option that will fit within your family's budget.
To schedule a free orthodontic consultation for your child, please contact Den-Care Smile Center at 1-847-DENTIST. For more information about orthodontic coverage for children covered by the Medical Card in Illinois, please visit www.medicalcardorthodontics.com.